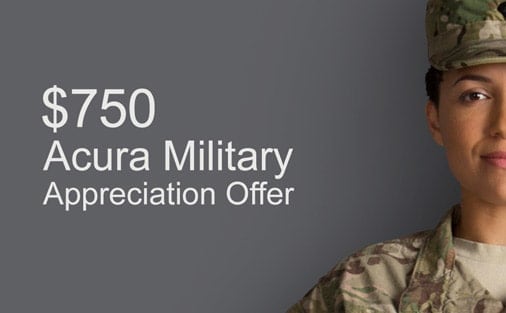 We salute you. Thank you for your service.
The Acura Military Appreciation Offer salutes your military service by offering you a saving of $750 towards any 2020 or newer Acura vehicle when you finance or lease with Acura Financial Services®.[1]
Call us now to claim your discount!
(888) 984-6860
WHO IS ELIGIBLE?[2]
U.S. Military Active Duty, including Army, Navy, Air Force, Marines, National Guard, Coast Guard and Active Reserve, and their spouses
U.S. Military Ready Reserve and Retirees, and their spouses
U.S. Military Veterans and their spouses within 180 days of separation from active service
What You Need[3]
Leave and Earnings Statement (LES) as proof of military status
Spouses must provide Military ID and spouse's LES