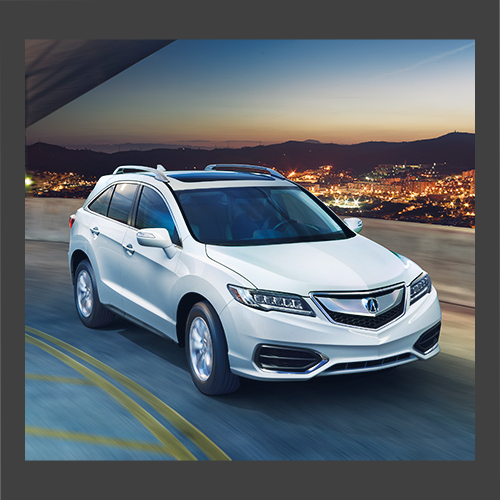 David McDavid Acura of Austin presents the 2017 Acura RDX
Welcome to the new 2017 Acura RDX. This compact SUV is the smoothest, most practical SUV of the year. Are you looking for a responsive car? The cleanest and most responsive-driving SUV you'll drive is the 2017 Acura RDX. Here at Acura we prioritize practicality without sacrificing luxury. We give our shoppers exactly what they want with the 2017 Acura RDX and the larger MDX. Simple, luxurious, quiet, comfortable, and most of all classy. The RDX maintains these Acura standards while delivering outstanding performance and responsiveness.
Overall, the sleek styling is supported with an attractive profile and pronounced fender arches. The headlights are now a string of five LEDs, lined up in a row like diamonds. The RDX includes strong powertrains, quiet cabins, and impressive safety-as well as just the right amount of versatility and practicality to make it one of the best-balanced picks in the SUV market, perfect for those who are balancing the usual mix of sometimes-conflicting priorities. Last year, the quiet but powerful 3.5-liter V-6 engine in the RDX got a boost-to 279 horsepower and 252 pound-feet of torque-and tuning for more immediate response at all engine speeds and better drivability around town. Most of the SUV's in this class come with a turbocharged inline-4, and versus those models the RDX's V-6 is strong and responsive. It's great for cruising around town, and works well in stop-and-go traffic. Strong torque from the V-6 means it doesn't have to downshift to accelerate.
2017 RDX Interior | David McDavid Acura of Austin
We at David McDavid Acura of Austin are incredibly proud and love the feel of the 2017 RDX interior. The cabin of this new age RDX is comfortable, handsome, and controls and features are easy to find and operate. In terms of space, the RDX is best for a pair of adults and another pair of smaller passengers. The cabin of the 2017 RDX is just the right mix of elegant and formal fused with sporty; and that pretty much describes the mixed priorities you'll find in this featured crossover. Seats are comfortable, and the cabin is extremely fit. The low cargo floor allows easier loading of cargo into the RDX. Hidden, underfloor storage accepts an additional 15 cubic feet of cargo and great convenience for any must-haves for your drives. Give us a call at David McDavid Acura of Austin and we can test drive one of these luxury SUV's with you.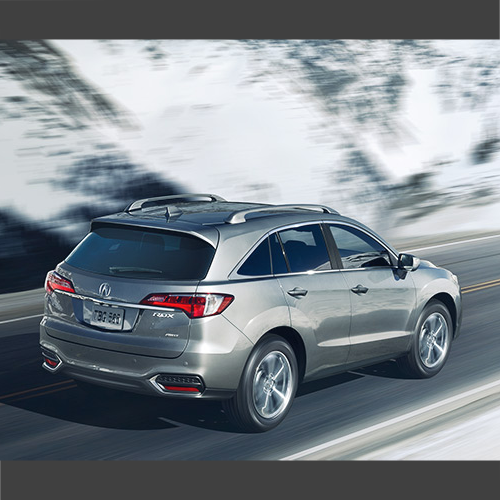 Acura Safety | The 2017 RDX Safety
Acura believes safety is the most important trait in a car. As far as safety is concerned, The 2017 Acura RDX continues to be one of the best-performing models in this class. Front, side-impact, and side-curtain airbags come standard, along with anti-lock brakes, electronic stability control and traction control, a rearview camera, and a rollover sensor to trigger the curtain airbags. We want you to drive with the piece of mind - you're in a top rated safety SUV. To learn more about the safety of this vehicle - call one of our representatives in Austin. The IIHS rates Acura's forward-collision warning system "Superior" in its front crash prevention tests, noting that almost braked itself to a complete stop from 12 mph and cut speed down to 9 mph at the point of impact with a 25-mph closing speed. Like other forward-collision warning systems, the one here is great. It's designed to detect objects that could prove dangerous-but those objects aren't always easy to sort out in real life, and it includes an especially strong and scolding warning system that can effectively cry sheep in daily gridlock. Be safe in your new Acura SUV.
2017 RDX Trims from David McDavid Acura of Austin
The Acura RDX is surprisingly customizable. This is a slightly different approach to our usual trim methods. The 2017 Acura RDX comes in ten different builds, and can be customized with additional options. Base, Technology, and Advance models set the stage for increasing levels of luxury and tech features, while a suite of AcuraWatch active-safety items are included at the Advance level but optional on other models. At the top Advance level, the RDX includes special 18-inch alloy wheels; remote start; front and rear parking sensors; and ventilated front seats. Trust us, you will be driving comfortably. You can get an RDX in front-wheel-drive or all-wheel-drive form. The latter has been tuned for more rear bias; it sends more power to the rear wheels under optimal conditions, which can aid stability and traction on slippery conditions ranging from snow and ice to mud. This gives the driver all of the control and has it ease of rougher conditions.
Acura 2017 RDX Summary
Form and function are pretty well balanced inside, with two-tone designs that arcs slightly around the driver and passenger, with a central pod of controls that drops down in between, over a horizontal beltline that runs across the middle. Center controls are positioned out a bit toward the driver, but otherwise the design is mostly symmetric. If anything, the look hinges a little too much on brightwork-it might feel a little on the drab side without all the chrome bezels.The engine makes 279 horsepower and 252 pound-feet of torque, and the RDX to responds sharply and swiftly to a prod of the accelerator. It's a smooth and refined piece, working together quite well with the 6-speed automatic transmission, and it's very responsive at all engine speeds-though. Driving refinement last year was enhanced by new active front and rear engine mounts, updated steering control system and increased suspension mount stiffness. These tweaks reduce the amount of vibration the driver and passengers feel on rough roads. All of those add to the feeling of a premium vehicle. Remember if you are interested in this vehicle you are equipped with options. Browse our inventory, talk with a representative, or come in a test drive one for yourself.
Sorry, no items matching your request were found.
Reset Search